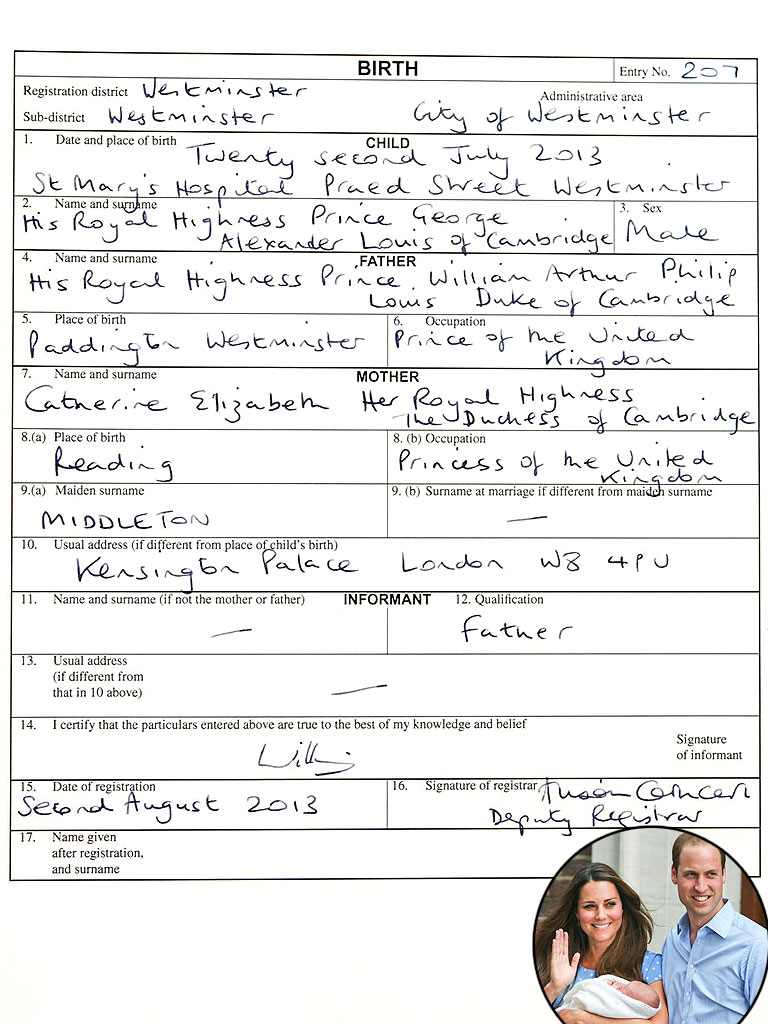 Can We Get Back to Teaching Cursive Writing Please?
This is readable but it looks like Prince William filled it out in a hurry. It is supposed to be an official document. Shouldn't the handwriting be more legible? (And I'm calling it writing over printing because several letters are
clearly formed with handwriting forms, such as the "f"). Look at item 15 (date of registration) is that the second of August that William has written?
You know, for the most part, handwriting isn't taught in schools anymore. There is an argument that it isn't needed. We all have computers so why do we need to write? A lot of people believe handwriting is only useful when
you get older it will be necessary to use a signature (cursive writing of your name) for cashing cheques, and signing other documents. At third grade your ability to create the necessary curves for letters is helping development your motor skills (movement of fingers, hands and eyes).
But there are more far-reaching reasons to learn cursive handwriting:
In learning to write by hand, even if it is just printing, a child's brain must:
Locate each stroke relative to other strokes.

Learn and remember appropriate size, slant of global form, and feature detail characteristic of each letter.

Develop categorization skills.
Cursive writing, compared to printing, is even more beneficial because the movement tasks are more demanding, the letters are less stereotypical, and the visual recognition requirements create a broader repertoire of letter representation. Cursive is also faster and more likely to engage students by providing a better sense of personal style and ownership.
(Dr. William Klemm, PhD, article from Psychology Today found here)
While teaching writing is a primary grade pursuit, or it used to be anyway, it has implications that impact middle and high school and beyond.
The problem begins with printing. A lot of children come to school in kindergarten already knowing how to print the letters of the alphabet, having been taught by well-meaning parents and caretakers. The problem is that many parents focus on the product - the finished letter- rather than the process - completing the letter in a fluid manner that allows the printer to progress onto the next letter readily. This process is evident in all the primary printing manuals that show directionality of lines.
Why is printing efficiently important? It leads to writing efficiently. And we need to know how to write in order to be able to read writing and to write longer exams. Students who print exams sometimes report cramping of the hands during the exam.
But are there other implications for students? One of my teacher-friends recently noted that
"unless the students have computers in class, they will not be able to take notes with any speed. I had to speak very slowly and stop after a sentence or two because of slow printers". In a grade seven or eight class, this can be accommodated - after all we're teaching students how to take notes. But what are the implications for university lectures?
"Even as we move to a society driven by keyboards, kids still need to learn to write by hand. Handwriting is so much more than simply putting letters on a page; it is a key part of learning to read and communicate. In fact, experts think that developing writing skills reinforces reading skills and vice versa."
(from Kidshealth.org, article here)
Still Not Convinced?
"Scientists are discovering that learning cursive is an important tool for cognitive development, particularly in training the brain to learn "functional specialization,"[2] that is capacity for optimal efficiency. In the case of learning cursive writing, the brain develops functional specialization that integrates both sensation, movement control, and thinking. Brain imaging studies reveal that multiple areas of brain become co-activated during learning of cursive writing of pseudo-letters, as opposed to typing or just visual practice.
There is spill-over benefit for thinking skills used in reading and writing. To write legible cursive, fine motor control is needed over the fingers. Students have to pay attention and think about what and how they are doing it. They have to practice. Brain imaging studies show that cursive activates areas of the brain that do not participate in keyboarding."
(Dr. William Klemm, PhD, article from Psychology Today found here)
So Prince William can write cursively, he simply has a barely legible style. He attended primary school around 1990 when handwriting was still in style. I wonder when the pendulum will swing again and bring it back to elementary schools?
(Certificate and inset of Prince William and Catherine from People.com)